О сайте

ALEXANDER SPIVAK

---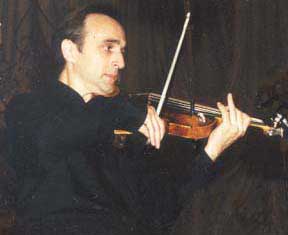 Alexander Spivak is a Violinist, conductor, teacher of music, the author of the numerous arrangements and transpositions for the orchestra and violin. He is the author of the works (the articles, books, publications) in the field of performance mastery and violin methodology. He is also the author of the dissertation on Sergey Prokofyev's creativity. His music education he got in Moscow: he left the Central Specialized Music School in Moscow (MCSMS), then was graduated from Moscow State Conservatoire named after P.I.Tchaikovsky and post-graduated from Moscow State Conservatoire as a performer and as a theorist. His masters were Yury Yankelevich, Felix Andriyevsky, Andrey Korsakov, Leonid Kogan. The theory of violin perfomance he studied under the direction of Vladimir Grigoryev - one of the most prominent musicologist of the country. Last years Alexander Spivak lives and works in Donetsk, where he leads active work as a player, teacher and music enlightener. Alexander Spivak organized two orchestras: the chamber orchestra "Rhapsody" and the symphony orchestra "Galilee", with which he arranges concerts in Donetsk and other Ukrainian cities. He collaborated with the most active cultural workers of the Donbass region, such as Vadim Pisarev. He participated in the international music festivals in Donetsk. One of Alexander Spivak's pupils represented Ukraine on the XI International competition named after Peter Tchaikovsky in Moscow. Alexander Spivak was noted by the region administration diplomas for the individual contribution on aesthetic education of the youth and on the Donbass cultural development His permanent creative partner and companion in the ansemble is Marina Vinogradskaya, pianist, MCSMS and Moscow Music-pedagogical Institute named by Gnesiny (Russian Music Academy) graduate - the grade of A diploma.
---

CHAMBER ORCHESTRA "RHAPSODIA"("RHAPSODY")
The orchestra was organized in 1994 by Alexander Spivak from among the most gifted students of the music college and conservatoire in Donetsk. For 6 years of work the great repertoire was stored, involving the musical compositions of different composers. But the preference is given to Antonio Vivaldi and I.S.Bach, whose compositions prevail and are an original visiting card of the orchestra. For 6 years of its work the orchestra played about 70 performances in the long and short concerts, accomplishing a season every year by the central concert, which summarizes the progress in its work successive stage.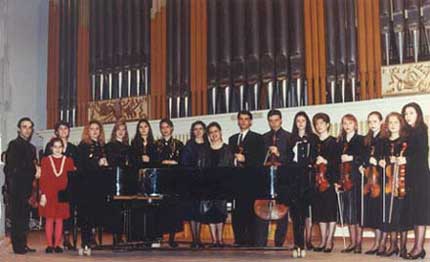 ---

SYMPHONY ORCHESTRA "GALILAIA"("GALILEE")
It is Alexander Spivak's new project, accomplished m 1999. The young musicians (Donetsk conservatoire students either), interested in their creative aspiration realization, form the orchestra. The orchestra is a classic troupe of the symphony orchestra. It perfoms under the direction of Alexander Spivak who is simultaneously a conductor and a soloist. In its first programs the symphony orchestra "Galilaia" and Alexander Spivak played the virtuous compositions for violin of Pablo Sarasate and Moris Ravel.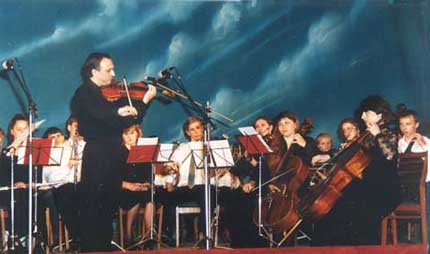 ---
Sklarenko St., 10\11, Donetsk, 83112, Ukraine

Telephon/Fax +38 0622 66-95-41