ANATOLIY VORONIN
baritone

Completed the Kharkiv Teaching Music School in Singing and Piano(Class of Diana A. Kostiuk). In 1978 entered the Donetsk State University named after Prokofiev in Solo Singing(Class of Evgen S. Derkach. Other professors: M.Evoricheva and M.Kondriatiuk). After graaduation in 1984, joined the Donetsk Philharmonic as a Soloist.
Took part in numerous concerts:
1984 M.Lysenko Vocal Competition, passed semifinals.

1987 Awarded Diploma in the Concert Singers State Competition

1990 All-Ukrainian Competition of Chamber Ensembles. Award and Title of Laureate

1992 International Competition of the "Golden Trumper" Ukrainian Song.
Often performerd in Ukrainian Radio and TV. Sang in Poland, Germany and Great Britain with the "Melodia" Folk Music Ensemble.
Within the 10 years of works at the Philarmonic, independently developed the following:
Vocal Cycle of "Shakespeare's 10 Sonnets" by D.Katbalevski

R.Schumann's "Poet's Love"

Opera Arias of Foreighn Composerss: Donizetti, Bellini, Verdi

Neopolitan Songs

Ukrainian Classical Romance and Song: Lysenko, Stepovyi, Stetsenko, Rudich, Haidamaka

"Spirit of the Sprins" Ukrainian Song Progaramme.
In 1994 Anatoliy Voronin is invited to the Donetsk State Academy Opera and Ballet Theatre where prepared and performed main parts in the following operas:"Falstaf", "Nabucco", "Rigoletto", "Aida", "Traviata", "Il Trovatore" by Giuseppe Verdi; "La Boheme", "Tosca", "Madame Butterfly" by Puccini; "The Favourite" by Donizetti; "Cavalleria rusticona" by Mascagni; "Pagliacci" by Leoncavallo; "Carmen" by Bizet; Carmina Burana by Orff; "Requiem" by Mozart and others.
In 1994 become Member of the All-Ukrainian National Music Association. Awarded the "Merited Ukrainian Artist". Awarded by the President of Ukraine. In 1995 Stanislav Liudkievich International Vocal Competition, an Award and Title of Laureaute. Awarded the Prokofiev. Award for Contribution to the Development of Music.
Guest performances in Italy, Spain, Portugal(exelent reviews), Canada, (Glen Gould Studio) and others.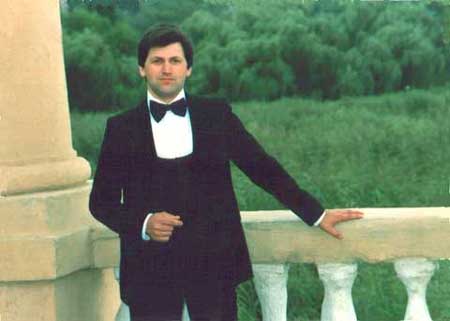 ---
INFORMATION FOR CONTACT
E-mail:
Tel. +38 062 382-62-88
Mob. 8 050 527-46-64
Donetsk, Ukraine